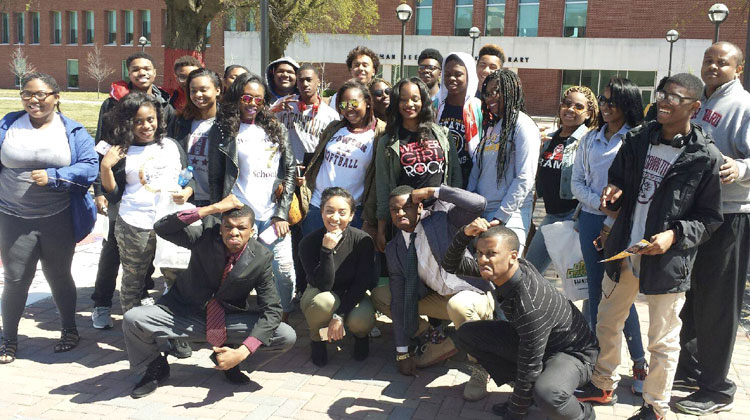 HBCU college tours are one of the best ways for college-bound high school students and community college students to witness the Black College experience first hand.
If you are a college-bound high school student or a community college student with a desire to attend a four-year school, HBCU college tours can give you an inside look at the best historically black colleges and universities in the United States!
What are HBCU college tours?
HBCU college tours provide African-American students, parents, teachers, and counselors with the unique opportunity to visit multiple college campuses in a single trip. With more than 100 historically black colleges and universities in the United States, these multi-campus college tours give students a solid understanding the history, culture, and traditions that have shaped the schools' collective legacy, and a framework for comparison that will help them choose the right HBCU.
Why are HBCU college tours important?
For more than a century, historically black colleges and universities were the only schools that were open to people of color. Today, they give thousands of students the opportunity to pursue a bachelor's degree, master's degree, or Ph.D. in an environment that fosters, encourages and expects black excellence.
Like many of the African-American and minority students who have signed up for HBCU college tours, you will find that they will provide you with a once-in-a-lifetime opportunity to visit the historically black colleges and universities that are spread out across the United States. In the process, you will build a stronger connection to the people, programs, and atmosphere at each school…and the legacy of strength, pride, and transformation that has shaped millions of African Americans' lives!
I want to go on an HBCU college tour, but how do I find out which historically black colleges & universities are on the tour schedule?
The best thing that you can do to learn more about the historically black colleges and universities that you can visit is to go to the HBCU college tour websites! All of the companies that we work with can provide you with a list of tour dates, as well as the college/university tour stops, hotel accommodations, meals, airfare options, and HBCU swag that will be included in the price of your tour.
Where can parents, teachers, and school counselors get more information about HBCU college tours?
If you would like more information about the HBCU college tours that are available to you, your children, and/or your students, you have two options:
Visit the Frequently Asked Questions (FAQs) section on the tour company's website. There, you will find answers to common questions about price, payment options, chaperones, accompanying a minor, and paperwork.
Reach out to the tour provider via phone, email, or their contact form; they would be happy to answer any additional questions that you have about the HBCU college tour experience!
List of HBCU College Tour Companies
| Tour Company | Type | Website |
| --- | --- | --- |
| Campus Visit Experts | In-Person | http://campusvisitexperts.com/tours_category/historically-black-college-and-university-tours/ |
| Educational Student Tours (EST) | In-Person | https://estcap.org/ |
| HBCUTE | In-Person | http://hbcute.com/ |
| MTM College Tours | Virtual/In-Person | https://www.mtmcollegetours.org/ |
| National HBCU Alumni Alliance (DC/CHI/ATL) | Virtual | https://www.hbcucollegetour.com |
| Parents Connected | In-Person | http://www.parentsconnected.org/college-tours/ |
| Shawn Carter Foundation | In-Person | https://www.shawncartersf.com/hbcu-bus-tour/ |
| Stepping In The Right Direction | In-Person | http://www.steppingintherightdirection.com/ |
| The HBCU Kid | In-Person | https://www.thehbcukid.com/ |
EST Black College Tours Helping COVID-19 HBCU Students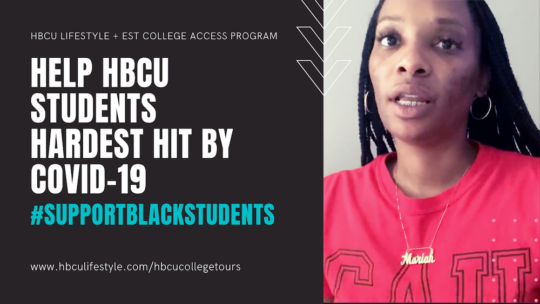 Before the COVID-19 pandemic, EST relied on corporate and individual donations to run our program that includes college prep workshops, financial literacy, scholarships, tuition assistance, and individualized support. With stock market portfolios declining, job losses, furloughs, and pay cuts due to the pandemic, many of our donors have indicated that they no longer have the capacity to give to our program.
In times like these, it breaks our heart to see students, our future leaders, struggling. The mission of EST Black College Tours and College Access Program, a nonprofit 501(c)(3), is to help African American foster and low-income students be admitted to and graduate from HBCUs to transform their lives. Since 1987, this award-winning nonprofit has been helping black students achieve their dream of a college degree and has earned a platinum rating on Guide Star, which rates top quality nonprofits. Here are some of the current situations of students:
– Many former foster youths do not have a laptop or computer. With colleges moving all their classes online, they face the prospect of having to drop out.
– Some foster students are now homeless because they have been asked to vacate the dorms.
– Utilities have been turned off, and students can't afford groceries.
– Low-income students lost their work-study jobs on campus and are on food stamps. Some do not qualify for unemployment and still have to pay rent.
To learn more, please watch this video, check out their website, and their annual report.
We know times are tough for many, but if it is in your heart/means and you would like to contribute financially to send HBCU students back to school in the fall, you can donate here.
I'm an HBCU college tour provider! How can I promote my tours on this HBCU Lifestyle page?
If you are interested in advertising on HBCULifestyle.com you can fill out the contact form or email us at marketing@hbculifestyle.com. We will send ad pricing and details.