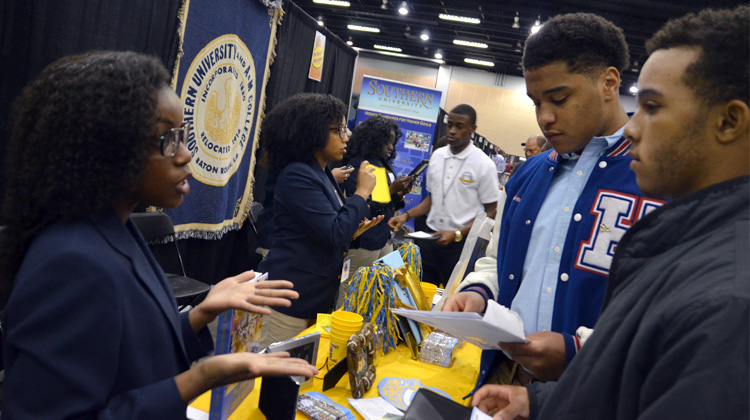 The Black College Expo will once again return to five cities. A program created by the National College Resources Foundation (NCRF), The expo aims to cut down the high school dropout rate and increase graduation and college enrollment rate among underserved and underrepresented youth. For over 15 years since its inception, BCE has helped more than 375,000 students enroll in college, and have given away over $500,000 in scholarships. The annual event features a very informative and exciting college fair and showcases well over 50 HBCU's and educational organizations and programs. Let's see why should you care to attend the Black College Expo.
Various benefits of attending the Black College Expo
The expo will help all students and student athletes to connect directly to various colleges, including HBCU's. Moreover, it's an opportunity to get accepted to the preferred college on the spot. Who knows your application fees might just get waived off too!
The event will provide you information about various available scholarships and will help you apply for them.
Here you will receive assistance with college preparation and readiness.
For those who want to learn about NCAA eligibility requirements and various recruitment opportunities, there is much in store for you.
Students will also get connected to internship, career, and vocational opportunities.
A few life changing seminars such as "How to get a scholarship for college", "411 for student-athlete," and "Why attend an HBCU" will be the highlights.
How to Prepare for the Expo
The event is for students of all ages.
11th and 12th graders should bring a minimum of 10 copies of official transcripts and ACT and/or SAT test scores.
11th and 12th graders, and even college students can get accepted on the spot.
Be prepared to meet one-on-one with recruiters.
Junior and seniors should submit their essay to "win DOLLARS for college."
Tickets are $10 at the door, $8 online and $7 for groups of 15 or more.
Review the student preparation sheet from NCRF.
 Expo Dates and Locations
Location: Cobb Galleria Centre
Date: February 4, 2017
---
Location: Oakland Marriot City Center
Date: February 18, 2017
---
Location: L.A. Convention Center (South Hall)
Date: February 11, 2017
---
Location: The Power Center
Date: November 12, 2016
---
Location: Bowie State University
Date: March 4, 2017
---
Brooklyn, NY College Expo
Location: Medgar Evers College
Date: TBD
---
Even though the entry to the Black College Expo is paid, it is certainly worth attending. The small fee will expose you to the resources that will help you take positive career choices. Then who knows, you might just walk out with a scholarship! For more information about scholarship opportunities see the National College Resources Foundation
Scholarship Guidelines
.
Source: National College Resources Foundation